Massive crochet mural fills exterior wall of future Arts Council of Baton Rouge
Updated: May. 23, 2019 at 3:56 PM CDT
BATON ROUGE, La. (WAFB) - There's a new mural in downtown Baton Rouge, but it's unlike any you've seen before. Its message will inspire you and what it's made of will make you think about your grandma.
You read that right.
Across the street from the Baton Rouge City Court hanging from an exterior wall of the future location of the Arts Council of Greater Baton Rouge is a mural made entirely of crochet.
"We loved it and we loved the message and we felt it aligned with the mayor's message," said Renee Chatelain, president and CEO of the Arts Council.
The phrase "you lose a lot of time hating people" is stitched in black yarn atop the purple and yellow background.
The image includes a portrait of singer Marian Anderson. She has a pivotal role in the struggle to overcome racial prejudice during the mid-twentieth century.
Anderson was a Philadelphia native, which is where the piece was created. It is the brainchild of artist Agata Oleksiak, better known as Olek.
"I feel like we are so separated right now, we feel so connected because with social media everybody can get in touch, but we're lacking human contact," Olek said in an interview with Nicole Duggan for Bridges Unite. "That disconnectedness, be it from reality, from nature, from history, or from each other, is the foundation of most of the problems we face as a society today, including gender inequality."
But the final product is not the goal, she explained. Rather, it's about the process.
The mural is comprised of two-by-two-foot square panels that were created by various people from the community. Olek held workshops to show them how to create the needed squares. The goal was to get people of different backgrounds together in one room to work on a common goal.
The City of Brotherly Love is sharing the mural it created. The piece is on loan and will hang on the wall of 233 St. Ferdinand Street, which is the former location of the EBR District Attorney's child support enforcement office. That agency has moved to 9048 Airline Highway, next to the Baton Rouge Police Department headquarters.
The mural will remain in Baton Rouge until the 2020 edition of the Ebb and Flow festival.
Over the course of the next year, the interior of the location known as the "triangle building," will undergo a massive transformation to become a hub of creativity. It will include multiple visual art gallery and exhibition spaces, artist workspaces, gathering and meeting spaces for artists and organizations, recording and production studios, studio theatre for rehearsals and residencies, and a rooftop terrace and sculpture garden.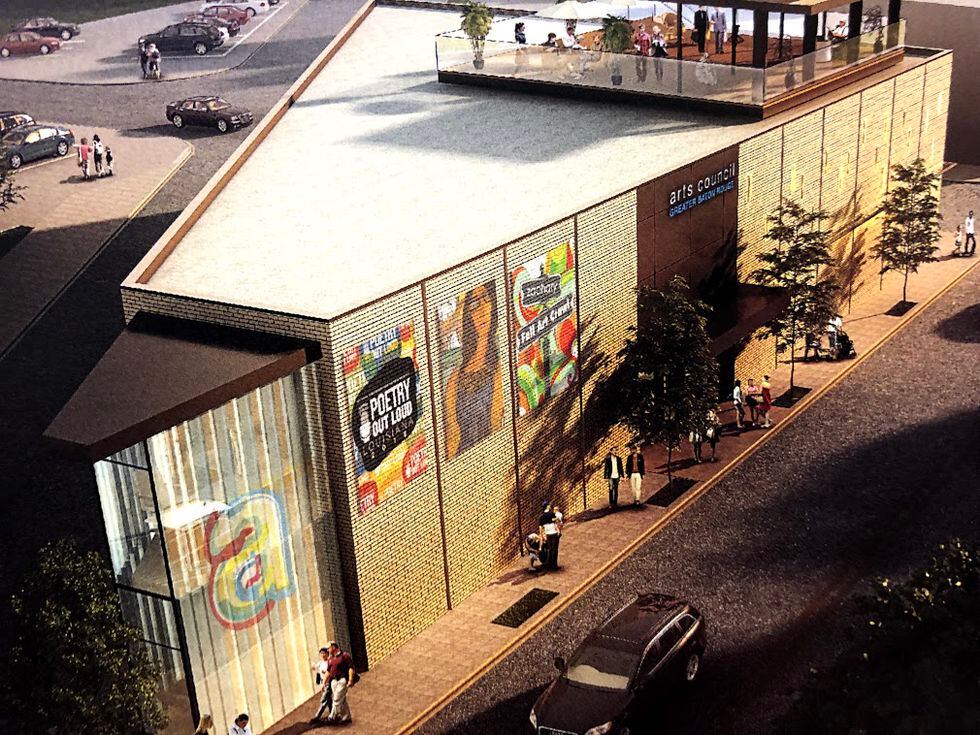 Copyright 2019 WAFB. All rights reserved.