Officials watching out for the blood-sucking 'kissing bug' in Louisiana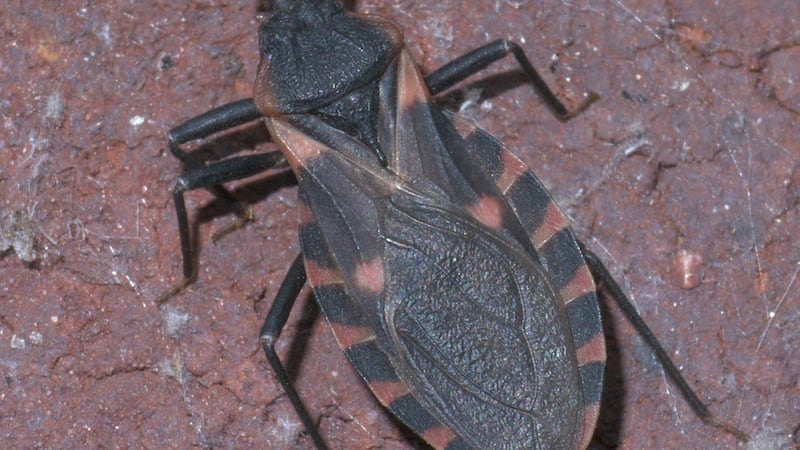 Updated: Apr. 28, 2019 at 9:06 PM CDT
BATON ROUGE, LA (WAFB) - The infamous bite of the "kissing bug," known for passing along the potentially fatal Chagas disease, is the focus of a Centers for Disease Control and Prevention alert issued after investigators learned in April of 2019 that a young girl was bitten by one on the face in July of 2018 in Delaware.
Louisiana has confirmed 13 Chagas disease infections in the state's history. Twelve of those cases were asymptomatic. Only 8 were proven to have been acquired in Louisiana, while the others may have only been diagnosed in the state but acquired overseas or in another state.
Cases were documented in the following parishes:
Acadia

Ascension

Caddo

Iberia

Jefferson

Lafayette

Pointe Coupee

St. Charles

St. Landry

St. Martin

Terrebonne
While the idea of a stealthy bug literally spreading the kiss of death may be the thing of nightmares, specialists say it's the bug's feeding process that's more worrisome than its bite. As the bug feeds on blood, it defecates and spreads parasites through its feces. Transmission usually occurs when the feces is unwittingly rubbed into the itchy bite wounds by an unsuspecting victim.
Julius L. Tonzel, a vector-borne diseases epidemiologist with the Louisiana Department of Health, noted the likelihood of infection in the U.S. is low - there's around a 1 in 400 chance of being exposed. However, he still offered information that can help Louisiana residents lower the chance of exposure.
HOW CHAGAS IS TRANSMITTED:
Triatomine bugs (Kissing bugs)

Congenital transmission

Blood transfusions

Organ transplantation

Consuming undercooked food
TIPS TO LIMIT EXPOSURE TO THE DISEASE-CARRYING INSECTS:
Use bed nets treated with long-lasting insecticides

Wear protective clothing

Apply insect repellent to exposed skin

Be aware of blood borne and food borne transmission

Seal cracks and gaps around windows, walls, roofs, and doors

Use screens on doors and windows

Repair holes or tears

Keep living areas and outdoor pet resting areas clean

The CDC recommends locating outdoor lights away from homes, dog kennels and chicken coops and turning off lights when not in use

Surfaces that come into contact with the insect should also be thoroughly cleaned.
WHAT TO DO IF YOU FIND A BUG KNOWN FOR CARRYING THE DISEASE:
DO NOT TOUCH IT DIRECTLY

Use gloves or a plastic bag to place it in a Ziploc bag

Take a picture of the bug and contact LDH
You can read Tonzel's full report by clicking the link here.
You can read the Louisiana Office of Public Health's complete timeline of Chagas infections in the state below.
TIMELINE OF INFECTIONS DOCUMENTED IN LOUISIANA:
2006
In July of 2006, officials documented the first human case of insect-transmitted Chagas parasite in Louisiana. The discovery marked the sixth ever confirmation in the U.S. Interviewers said a pest control operator found kissing bugs while assisting residents. Two residents were tested for Chagas, one of which tested positive for the antibodies to the Chagas parasite.
2011
One case was reported in a resident of St. Martin Parish. This resident reported no significant potential exposures outside the U.S., but did report a history of recreational camping.

Another case was a resident of Lafayette Parish who could not be contacted for an interview.
2012
A resident in Saint Charles Parish that was born in Central America was diagnosed via blood donation screening. Interviewers noted the resident mentioned having surgery under her arm previously.
2013
One case, a resident living in the Opelousas area, noted a history of recreational camping in the state. The infected person noted to investigators they suffered an insect bite with subsequent swelling the next morning. This case was diagnosed via blood donation screening.

The second case was an Acadia Parish resident.
2014
A Mexican immigrant living in the Terrebonne Parish was diagnosed via blood donation screening.
2015
A resident of the Pointe Coupee area had spent some time outdoors and in a cabin in the woods and later suffered an asymptomatic infection.

The second asymptomatic case, an Iberia Parish resident, had no history of international travel, but told interviewers they spent a considerable amount of time camping. This case was also detected after a blood donation.

An immigrant construction worker from Mexico living in the Jefferson Parish area suffered cardiac arrest, fever, confusion, leukocytosis, thrombocytopenia, and was under the care and supervision of a cardiologist.
2017
An asymptomatic individual became infected through an organ transplant. The organ donor had previously lived in Central America.

An asymptomatic individual from Caddo parish was diagnosed.

Bugs known to carry the disease were found near a home in Ascension Parish. A resident told interviewers he had not traveled outside of the country around the time the infection was discovered, but had visited South America several years prior. He was identified through a blood donation screening test. Confirmatory testing was not performed until 2018.
Copyright 2019 WAFB. All rights reserved.