U-High running back Mike Hollins wins 2018 Warrick Dunn Award as Sportsline Player of the Year
Includes full video of the ceremony and photo gallery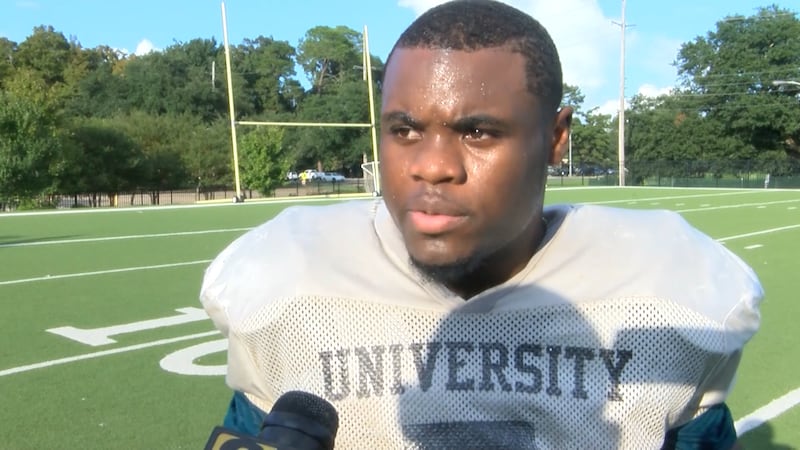 Updated: Jan. 16, 2019 at 3:03 AM CST
BATON ROUGE, LA (WAFB) - In one of the closest races in the 12-year history of the award, U-High running back Mike Hollins has edged out a star-studded cast of finalists to win the 2018 Warrick Dunn Award as WAFB's Sportsline Player of the Year.
The 5′ 10″, 214-pound Virginia signee capped a stellar four-year career with the Cubs by leading his team to a perfect 13-0 season and second straight LHSAA Division II State Championship. The four-time Sportsline Player of the Week took home four trophies Tuesday night after rushing for 1,645 yards his senior season. Hollins also scored 33 touchdowns and claimed the Most Outstanding Player award in the Superdome after rushing for 237 yards and four touchdowns and adding 47 receiving yards and another score in a 55-46 win over St. Thomas More.
RELATED STORIES:
Sportsline Player of the Week: U-High RB Mike Hollins
Sportsline Players of the Week: U-High RB Mike Hollins and Amite QB Amani Gilmore
U-High also became the first school to have more than one winner of the Warrick Dunn Award. LSU running back Nick Brossette was named the Sportsline Player of the Year in 2014 and Hollins replaced him in the Cubs' starting lineup the next season as a freshman.
Hollins beat out LSU signees Derek Stingley, junior from Dunham, Kardell Thomas and Tyrion Davis from Southern Lab, and Kentwood's Trey Palmer. Other 2018 Warrick Dunn Finalists were Ishmael Sopsher and Kentucky signee Amani Gilmore of Amite, as well as wide receivers Chandler Whitfield from Zachary and Justin Rivet from St. John of Plaquemine.
Copyright 2019 WAFB. All rights reserved.