Zachary couple wins a new roof from WAFB and Garcia Roofing and Sheet Metal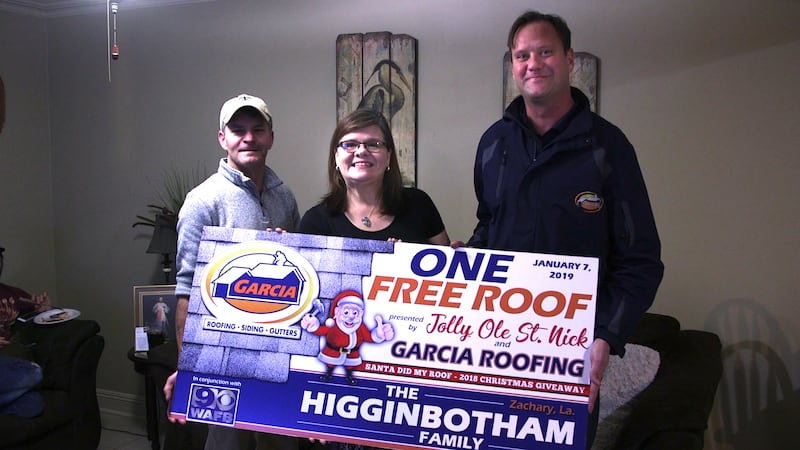 Updated: Jan. 8, 2019 at 3:45 PM CST
BATON ROUGE, LA (WAFB) - First Deborah Higginbotham was in shock, then in disbelief and finally in tears when she found out she had won a new roof for her house. That is quite the range of emotions for someone who didn't even remember entering WAFB and Garcia's Santa Did My Roof contest. But she did, right after Thanksgiving when the contest launched.
"I had heard about the contest on WAFB, because I watched the news every morning and just randomly said let me give this a shot," Higginbotham said. "When I took the call my mouth dropped open. We've had some trials and tribulations this year and I was completely surprised to hear some good news."
Deborah was one of nearly three thousands people who entered to win the new roof from Garcia Roofing and Sheet Metal, but she forgot to mention anything about entering to one person. Her husband Richard.
"She called me at work Wednesday morning and said she had just taken a phone call from WAFB, then she started crying and couldn't get it out," Richard said. "I asked her what is going on, what happened? She said God has been so good, he has blessed us with a new roof."
Work on the Higginbotham's new roof will begin over the next few weeks. Representatives from Garcia estimate the installation should take a few days to a week to complete.
Deborah and Richard repeatedly called their win a blessing because of the financial burden a new roof could put on someone. So their plan is to pay this blessing forward and help as many people as they can.
Copyright 2019 WAFB. All rights reserved.