Cancer patients learn to find blessings in brokenness
Updated: Dec. 4, 2018 at 9:13 PM CST
BATON ROUGE, LA (WAFB) - Nervous hands dip tiny brushes into gobs of paint. Delicate strokes dab colors onto a canvas that is anything but pretty.
"I''m not a very good artist," Nora Taylor admits as she rinses her brush in a cup of water stained pale pink with paint.
Beauty, they say, is in the eye of the beholder. Turning an oyster shell into Christmas cheer is not for the faint of heart. The half-dozen artists in a small conference room at Our Lady of the Lake Mary Bird Perkins Cancer Center are anything but squeamish.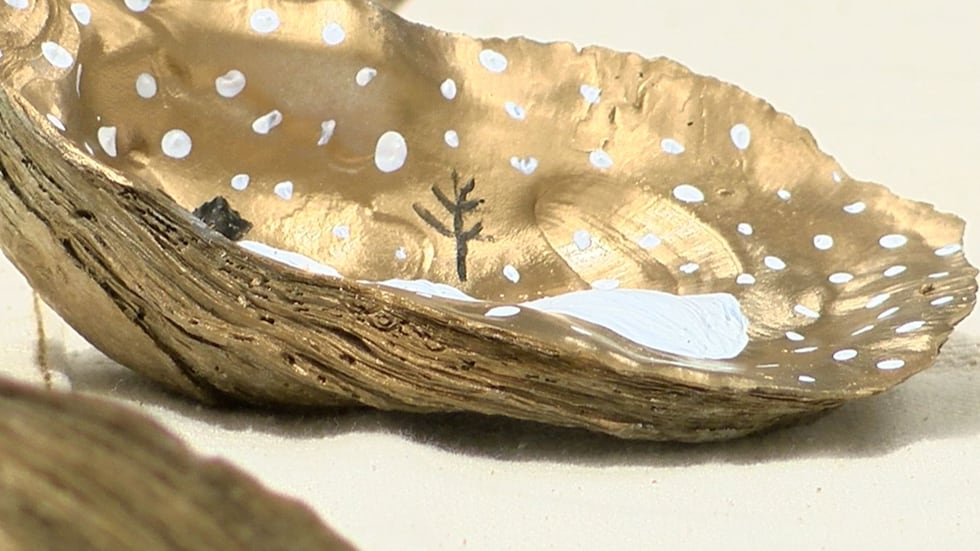 "Nausea has been at the top of my list this year," Becca Bartlett said with a smile. She, like everyone in the room, has been touched by cancer.
Taylor has beaten leukemia twice. She was first diagnosed with acute myeloid leukemia in 2011. "I haven't been in the hospital since 2014, so I'm feeling blessed," she said.
A cancer patient finding blessings is no small feat. It's often a daily struggle to cope with the disease. There's the treatment, the nausea, the hair loss, and the ugliness breaking the body. At Mary Bird Perkins, patients are learning to find beauty in some very ugly times.
"There are some days that you are literally passing minute to minute, hour to hour with how you feel," Bartlett said. She's being treated for breast cancer. "Cancer is overt," she said. "You can't hide it. You lose your hair. You just can't hide that you have it."
It's that constant reminder that the people in the room are learning to cope with through painting. "When I'm painting," Bartlett said, "I'm not thinking about my nausea or anxiety. I'm just enjoying painting."
Paint does not take away the pain or the nausea. It does not grow hair or shrink tumors. The simple act of concentrating fully on something beautiful rather than the ugliness eating away inside brings peace.
Patients call it being mindful, or in the moment. "When you're focused on exactly what you are doing," said Taylor, "Your mind is totally free. You are not thinking about cancer."
The oysters these patients and their families are painting will decorate the Mary Bird Perkins Christmas tree as a reminder to all who enter that beauty and hope can be found almost anywhere.
"There are not many wonderful things that come with cancer," Bartlett said, "But this is something wonderful that has come."
In life, we get to choose where we put our energy. Imagine what could happen if we, like these artists, could use it to find beauty in oyster shells and blessings in our brokenness.
Copyright 2018 WAFB. All rights reserved.