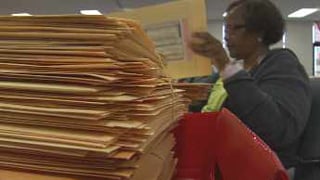 © CBS 5
PHOENIX (CBS5) -
There are 135,140 early and provisional ballots around Arizona that still have to be processed and counted.
The latest number was updated about 6 p.m. Friday by the Arizona Secretary of State's Office.
A state canvass to certify official election results for federal, statewide and legislative races is scheduled for Dec. 3.
Maricopa County election officials continue chipping away at tabulating and processing early and provisional ballots in the 2012 General Election.
As of Friday night, there were about 12,000 early ballots left to tabulate. Roughly 97,000 provisional ballots are still awaiting processing and tabulation.
Maricopa County Recorder Helen Purcell said workers began counting votes at 7 a.m. and ended about 10 p.m.
The entire process is being done behind closed doors because of protests that started Wednesday. [Read cbs5az.com story on Nov. 9]
Purcell said she continues to be under armed security with guards accompanying her to her car every night.
She noted this is the first election in her 24 years as county recorder where she has felt threatened and uncomfortable.
Copyright 2012 CBS 5 (Meredith Corporation). All rights reserved.